AFL 2022 Round 7 LIVE updates: Tigers dominating Eagles as Bolton, Lynch fire up
We're sorry, this feature is currently unavailable. We're working to restore it. Please try again later.
Loading
Tom Lynch looked a little unsure he could make the distance but he has marked 50m out and quickly taken his kick with the ball sailing into the goals for his fifth major.
Tigers 138, Eagles 37 with 15 mins to go.
At least these Eagles fans are getting to see a stack of goals with Josh Kennedy kicking his third major of the night.
There have been 25 goals kicked so far, sadly for Eagles fans 20 of them have been kicked by the Tigers.
Tigers 132, Eagles 37 with 17 mins to go.
Maurice Rioli kicks his third
Maurice Rioli is making the most of his opportunities in this second half and he is getting some great help from Shai Bolton, Sydney Stack and others who have got the ball in the contest and sent it his way.
Rioli has kicked three goals.
McIntosh has added to his tally as well with a quick goal soon after Rioli's third.
Tigers 131, Eagles 31 with 18 mins to go.
Dion Prestia (ankle) has been withdrawn by the Tigers with medical-sub Jack Ross to come into the game.
Both teams have used their medical subs.
3QT: Richmond 18.11 (119) to West Coast 4.7 (31)
Richmond were challenged a little in the third quarter but responded well to a couple of Eagles' goals to kick five straight goals to finish the term with Ivan Soldo kicking a late major for the Tigers.
The Tigers will want their defence to continue to command this game in the last term and build more chemistry as they have some tough games to come and will need all the run and counter-attack they can get, after all this is the first game this season that both Dylan Grimes and Nick Vlastuin have been able to play in defence together.
Maurice Rioli adds to family legacy
Tigers young gun Maurice Rioli has kicked a goal picking up a handball from Castagna and kicked a goal on the run.
He gave a point to the crowd and was mobbed by his teammates.
Rioli kicked a second goal just minutes later soccering off the ground from close range after a handball from Sydney Stack.
Tigers 113, Eagles 31 with two mins to go until 3QT.
Riewoldt adds to his tally
Richmond remain in command as three-quarter-time approaches as Jack Riewoldt took a mark and kicked his fourth goal.
Shai Bolton's run was vital to getting the ball into attack and they worked it down to their veteran full forward who kicked the major.
Tigers 101, Eagles 31 with two mins to go in Q3.
The Eagles have copped a 50m penalty for a player going backwards off the mark when told to stand.
That gave Tom Lynch a kick from 30m out and he converted for his fourth goal.
Tigers 92, Eagles 30 with seven mins to go in Q3.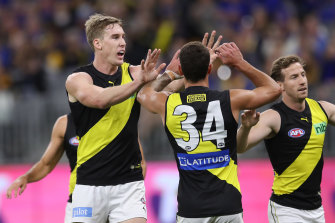 Josh Kennedy has kicked his second goal for the quarter as the Eagles are starting to find ways to move the ball into attack after struggling to avoid turnovers in the first half.
Kennedy is a veteran but he still knows how to win a marking contest and kick a goal.
Tigers 86, Eagles 29 with 10 mins to go in Q3.
O'Neill, Ryan could return
Channel 7 has reported that Liam Ryan has had his knee strapped up and looks ready to return while O'Neill is also a chance to come back on.
That is much needed good news for the Eagles.