By the time Brennan booted her second goal early in the third term, Richmond's lead had ballooned to 35 points, and from there, the Eagles struggled to make significant inroads, despite the best efforts of Swanson and Hooker.
A strong final quarter from West Coast, in which Schmidt kicked two of her three goals, added respectability to the scoreboard from an Eagles point of view.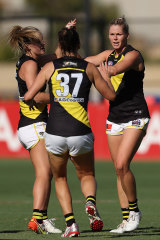 RICHMOND'S NEED FOR SPEED
Richmond's speed was perhaps best illustrated late in the first quarter when a blistering chain of possessions featuring Conti, McKenzie, Tessa Lavey, Emelia Yassir and Brennan finished up with Christina Bernardi, who kicked the easy goal from the goal square to put the Tigers 26 points to the good.
CONTI ALL CLASS
Early in the second quarter Conti showed her considerable class when she received the handball from Maddy Brancatisano in the forward line, sidestepped West Coast's Courtney Guard and dobbed a beauty from the pocket to swiftly restore her side's four-goal advantage shortly after Swanson kicked West Coast's first major.
STAHL THE PICKPOCKET
West Coast's fate was sealed early in the final quarter when Niamh Kelly committed a critical error deep in defence by kicking it backwards to Ashton Hill. Stahl was wise to the plan and charged towards the ball before taking a courageous chest mark backing back with the flight while crashing into Hill. Stahl completed the brilliant play by slotting her third major from 15 metres out to put Richmond up by 36 points.
RICHMOND 4.2 6.5 8.7 10.8 (68)
WEST COAST 0.0 2.2 4.2 7.3 (45)
GOALS
Richmond: Stahl 3, Brennan 2, Bernardi, Conti, McKenzie, Macdonald, Makur Chuot.
West Coast: Schmidt 3, Swanson 2, Bullas, Gibson.
BEST
Richmond: McKenzie, Conti, Brennan, Seymour, Lavey, Stahl.
West Coast: Swanson, Hooker, Schmidt, Gooch.
VENUE Mineral Resources Park.
St Kilda's AFLW season hits record low after Blues demolition
CARLTON 7.6 (48) d ST KILDA 0.2 (2)
St Kilda's woeful AFLW season reached a new low on Saturday evening after they were held to the equal lowest score in the competition's history by fellow strugglers Carlton who romped to a comprehensive 46-point win at Princes Park.
The Blues and winless Saints headed into the contest as the bottom two sides, but in a massive indictment on Nick Dal Santo's team, onlookers would've been forgiven for thinking Carlton were finals bound.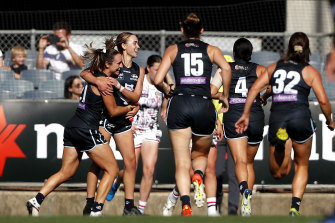 The contest was over by the time Carlton kicked five goals in 17 minutes either side of quarter-time, holding the Saints scoreless for the final three quarters after they registered the first two scores of the game.
The result ended a hellish period for Carlton, who had run the gauntlet of heavyweights in their past four games, and came out the other end bruised and battered, losing to the Brisbane Lions, North Melbourne, Adelaide and Fremantle by an average of 37 points.
The depleted Saints, who were missing Georgia Patrikios, Tarni White, Tyanna Smith, Olivia Vesely, Rosie Dillon and Leah Cutting, remain rooted to last place on the ladder with an 0-6 record, having not won a game since March 28 last year, continuing rookie coach Dal Santo's nightmare first year at the helm.
The Blues blitzed the Saints in disposals (273-215), marks (53-38) and inside 50s (36-24) and were well served by the outstanding Georgia Gee (20 disposals) and Mimi Hill (18), while Darcy Vescio and ruck Bree Moody combined for four goals.
St Kilda actually started the stronger of the two teams and registered seven of the first nine inside-50s, but failed to translate their dominance of play onto the scoreboard.
After the Blues absorbed the onslaught, they counter-punched on the back of superior pressure.
The Saints' resistance evaporated midway through the first quarter as the Blues did as they pleased. The momentum swing was dramatic and in the second quarter the ball was virtually parked in Carlton's forward half.
The Blues toyed with St Kilda and if it wasn't for inaccuracy in front of goal, the margin would've been greater than 33 points at the major break.
Earlier in the day, Adelaide returned to the top of the ladder after crushing GWS by 40 points at Henson Park, 5.15 (45) to 0.5 (5), with Crows star Erin Phillips to be assessed on Sunday after hobbling off in the last quarter with a knee injury.
BLUES BREAK SHACKLES
Carlton reached their season-high score midway through the second quarter when Courtney Jones converted a set shot to take them to 5.3 (33), bettering their previous 2022 best of 4.7 (31). In fact, by quarter-time, the Blues had already scored more than they did in their previous two games. At the first change Carlton were 3.1 (19) after only managing final scores of 1.6 (12) and 1.3 (9) against Adelaide and Fremantle respectively in rounds five and six.
KEELEY CRUNCHES CAT
Keeley Sherar, who returned from a broken hand, helped turn the tide in Carlton's favour in the first term when she ran down Saints co-captain Cat Phillips in the Blues' goal square and pinged her for holding the ball. Sherar converted the easy set shot from point-blank range to give the Blues the lead against the run of play.
GOOD JOB, JESS
Carlton ruck Jess Good belied her tall stature early in the second quarter, and showed all the dexterity of a goalsneak when she read the flight of the ball the best deep in attack. Good collected the loose ball out the back after it cleared the marking contest, and then cleverly dribbled it through the big sticks from a tight angle in the pocket to extend Carlton's lead to 23 points.
CARLTON 3.1 5.5 5.5 7.6 (48)
ST KILDA 0.2 0.2 0.2 0.2 (2)
GOALS
Carlton: Vescio 2, Moody 2, Sherar, Good, Jones.
BEST
Carlton: Gee, Hill, Egan, Vescio, Moody, Prespakis.
St Kilda: Lucas-Rodd, Phillips, Shierlaw.
LATE CHANGE
St Kilda: D Guttridge (leg) replaced by A Richards.
VENUE Ikon Park.
Toogood too clinical as Bulldogs down Cats
WESTERN BULLDOGS 3.10 (28) d GEELONG 2.4 (16)
On an evening when few players could hit the target, especially close to goal, the Western Bulldogs will be praising Bonnie Toogood, whose clinical finishing made sure they avoided an upset against Geelong.
Toogood kicked two goals and set up another from her 15 possessions as the Bulldogs struggled to convert their chances in a 12-point win at Whitten Oval on Friday night.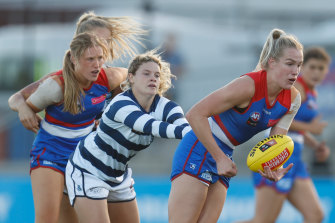 Both defences were desperate and took chances to spoil, smother or push a forward out of position although the Bulldogs also missed three free-kicks at goal which would have made the margin far more secure.
You could not question Geelong's effort, nor their application but they don't yet have the talent or running power to consistently win the ball and surge it into the forward line.
Still, they got within 12 points in the final term, with Rebecca Webster their best player with 22 possessions.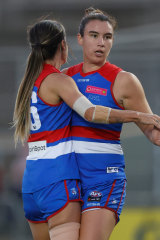 The Bulldogs could only manage two behinds in the opening term despite having several chances to put majors on the board against a Cats side that was spirited but struggled to push behind half-forward.
Bulldogs coach Nathan Burke, according to Fox Footy, put his forwards on notice at quarter-time, telling them to stop wasting chances to lift and his side to do likewise as it wasn't Friday night training.
Burke's side was much more direct and deliberate to start the second term, locking the ball in their forward line and continuing to find openings, with Toogood marking 25 metres out and kicking the opening goal with 10 minutes left in the second term.
Toogood turned provider for the second goal as some relentless pressure led by Sarah Hartwig resulted in Toogood feeding Elisabeth Georgostathis, who kicked a running goal as the Dogs' lead grew to 16-0.
Geelong's best chance came late in the term when Jordan Ivey's goal-bound kick from close range was parried away for a behind.
The Cats deserved a goal late in the second term but the Bulldogs came up with desperate efforts to take a 16-2 lead into half-time.
The Bulldogs' inaccuracy close to goal continued but they extended the lead when Toogood drew a 50-metre penalty from a Cats player for encroachment, which put her close enough to kick her second goal and give them a 27-2 lead at the final change.
Geelong had their best patch of the game to start the last term, winning the ball in the middle and surging forward with Chloe Scheer grabbing the ball 40 metres from goal and thumping it through the middle for their first major.
The Cats then had a second goal in a minute as Phoebe McWilliams took a mark inside 50 and then was brought to the goal square after Scheer was held closer to goal, leaving it 27-15 with 10 minutes to play.
Blackburn fires up
Bulldogs captain Ellie Blackburn has long been one of the league's most consistent performers but her first term was a quiet one, with only two possessions and very little influence.
That all changed after quarter-time as she posted 11 possessions for the term and was a constant around the ball as the Bulldogs made their move. She finished among their best with 22 possessions.
WESTERN BULLDOGS 0.2 2.4 3.9 3.10 (28)
GEELONG 0.0 0.2 0.2 2.4 (16)
GOALS
W Bulldogs: Toogood 2, Georgostathis.
Geelong: Scheer, McWilliams.
BEST
W Bulldogs: Toogood, Georgostathis, Blackburn, Lamb, Moody.
Geelong: Webster, Emonson, A McDonald, Morrison, Crockett-Grills.
CROWD 1530 at Whitten Oval.
Keep up to date with the best AFL coverage in the country. Sign up for the Real Footy newsletter.