Lisa O'Hallaran from the Moreland Bicycle User Group told the meeting that with the high cost of living there was "no better time" to continue with the rollout of cycle infrastructure.
"I am a living example that you do not need to be a contender for the Tour de France to benefit from riding a bike to work and to the shops and everywhere else," she said. "You don't need special clothes. You don't need a carbon fibre bike. You don't need to be a particular age."
Jesse Cain, director of theatre and production at the Marriner Group, which operates four theatres in the CBD, told the meeting the protected bike lanes had led to a vastly improved urban environment in and around Melbourne's theatre district.
"The removal of on street parking has had zero detrimental impact on our business," he said. "The separated bike lanes have increased the safety of patrons and passing pedestrians."
Loading
Transport and urban design researchers Nathan Pittman, Dr Andre Brett, Rebecca Clements, Iain Lawrie and Merrick Morley made a joint submission in which they argued that people rode bicycles when bike infrastructure in Melbourne was high quality.
"Fifty years ago Amsterdam was heading towards car dependence, but they made and continue to make the decisions every day to make their city a great place to ride a bike," the researchers said. "City of Melbourne has started to, and can continue to, make these decisions by choosing to proceed with the rollout of CBD bike lanes."
Lord Mayor Sally Capp said the council had to find ways to share the limited space to provide safe access for all modes of transport.
"It is about compromise and balance," she said. "It is about being fair and reasonable."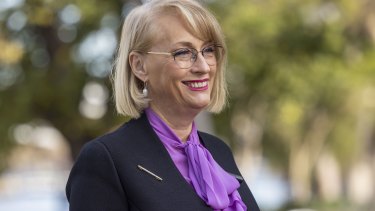 Deputy Lord Mayor Nicholas Reece said the city needed to get beyond the debate of bikes versus cars.
"There is a focus outside the Hoddle Grid, that is to take account of there is a lot of work going on in the city at the moment," he said.
Councillor Rohan Leppert said he supported the pause because none of the bike lanes that were meant to be built in Spring Street, Bourke Street, Franklin Street, Elizabeth Street, Spencer Street and Flinders Street were "shovel ready".
"We can't keep doing this piecemeal approach where we get spooked and then under delegation or in quiet conversation amongst councillors we agree to just wait a bit longer, wait a bit longer until the right time," he said. "We have to do detailed design, consultation, rollout."
Analysis by Urbis for the City of Melbourne found 45 per cent of people used public transport to get to the city, 41 per cent came by car, 9 per cent walked and 4 per cent rode a bike.
The Morning Edition newsletter is our guide to the day's most important and interesting stories, analysis and insights. Sign up here.