Belarus Defence Minister Viktor Khrenin said the focus of the extended exercises was "to ensure an adequate response and de-escalation of military preparations of ill-wishers near our common borders".
The Kremlin did not comment on the Belarus drills. Russia previously said the troops would return to permanent garrisons once the drills were over.
NATO says Russia could use the troops as part of an invasion force to attack Ukraine. Moscow denies any such intention.
Mykhailo Podolyak, an adviser to the Ukrainian President's chief of staff, said the extension of the exercises underlined that official promises from Moscow should not be taken as binding.
Russia says the West is whipping up tensions by sending NATO reinforcements to eastern Europe.
Kremlin spokesman Dmitry Peskov said the repeated warnings by the West that Russia was about to invade were provocative and could have adverse consequences.
Planned Western sanctions
Western countries are preparing sanctions they say would be wide-reaching against Russian companies and individuals in case of an invasion.
British Prime Minister Boris Johnson said in a BBC interview broadcast on Sunday that such sanctions could include restrictions to prevent Russian businesses from accessing the dollar and the pound.
However, he acknowledged such threats may not deter Moscow, saying Putin may be "thinking illogically."
Ukrainian Foreign Minister Dmytro Kuleba joined calls from Ukrainian President Volodymyr Zelensky on Saturday for the West to impose sanctions now, rather than wait for an invasion.
Blinken said, however, that sanctions were a deterrent that should not be unleashed before an attack.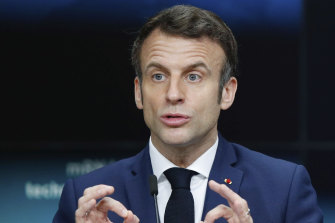 The focus of tensions in recent days has been on the areas of eastern Ukraine that Russian-backed rebels seized in 2014, the same year Russia annexed Crimea from Ukraine. More than 14,000 people have been killed in the conflict in the east.
Zelensky called on Sunday for an immediate ceasefire in the eastern part of the country.
Even so, a Reuters reporter heard explosions in the centre of Donetsk city in the eastern Donbass region controlled by separatists. Heavy shelling was also heard elsewhere in the region.
Loading
SMS messages sent from separatists to residents of Donetsk urged men to report for military duty.
Kyiv's Western allies are concerned Russia might use the escalation as a pretext for wider conflict.
Local military forces in one of the separatist areas, Luhansk, said on Sunday that two civilians had been killed and five buildings damaged in shelling by the Ukraine military. Two Ukrainian soldiers were reported killed and four wounded on Saturday.
The International Committee of the Red Cross said water services had been disrupted for more than a million people in the region, and called on all sides to spare civilian infrastructure.
Ukraine's Foreign Minister Kuleba said Ukraine was not planning or carrying out any offensive operations.
Reuters
Get a note directly from our foreign correspondents on what's making headlines around the world. Sign up for the weekly What in the World newsletter here.