Mr Tehan said the easing of COVID restrictions in NSW and Victoria will "make life less bureaucratic and more relaxed for international visitors".
Loading
Greg Binskin, executive manager of the NSW Tourism Industry Council, said leisure visitors will increase once the capacity of airline seats return: "It will take time but consumers now have the confidence to plan a visit to Australia.
"As confidence builds so will the business travellers as companies re-engage without quarantines and fear of lockdowns," he said.
A Qantas spokeswoman said bookings for flights into Australia doubled on the first day after Mr Morrison announced the reopening of borders.
"Bookings are strongest out of the US and UK, and we've also seen spikes from South Africa, India and Canada, with March, April and May the most popular months for travel," she said.
Loading
The airline plans to bring back new international routes in late March, including flights between Sydney and Manila, Jakarta and Denpasar.
Bookings on Skyscanner for trips to Australia were strongest out of Britain with a 175 per cent increase in the week following Prime Minister Scott Morrison announcing the reopening of Australia's borders to vaccinated travellers – this is despite a survey showing Australia was the last place Britons wanted to visit.
There was also a spike in bookings from Germany, India and Ireland, said Skyscanner's Australia manager Brendan Walsh.
Loading
Bookings with coach tour operator AAT Kings were on par with December 21 following Mr Morrison's announcement, chief executive Ben Hall said. "We are seeing enquiries, but feel some resistance to commit in the immediate term."
Mr Hall said there were signs of recovery, but bookings were still down 90 per cent compared to pre-COVID levels: "I don't think lingering testing requirements and rules will deter travellers, but it does put more emphasis and importance on experts assisting with planning and travelling."
Marriott boss Sean Hunt said the hotel chain had experienced a "huge lift" in inquiries since the border reopening announcement, with a 20 per cent lift in visits to its website from overseas travellers and a 32 per cent increase in bookings over the next month.
About one-third of Marriott guests are from overseas, with the United States, United Kingdom and Singapore the main sources of foreign guests.
In contrast, visitors from China accounted for a "relatively small" number of hotel guests – although Mr Hunt said he would welcome the return of Chinese tourists.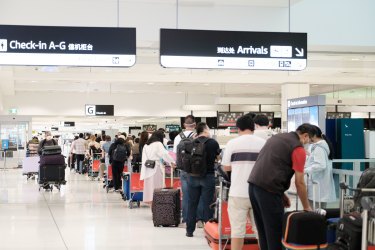 Mr Hunt said he did not believe the Fortress Australia strategy had turned off traditional sources of overseas visitors.
"Travellers are quick to forget and move on," he said. "I've seen natural catastrophes and man-made catastrophes [but] people recover pretty quickly and get on with life."
While vaccinated visa holders can enter Australia from tomorrow without a travel exemption, unvaccinated travellers will still need to go into hotel quarantine.
This will be organised by Australian Border Force, but airline check-in staff in foreign countries would be responsible for checking the passenger met pre-departure requirements for COVID-19 vaccinations and testing.
Mr Goodwin said he was "not expecting chaos" at the airports because the requirements for international visitors were the same as for Australian citizens, and airports and airlines had already been applying these protocols for some weeks.
However, he warned there would be "some confusion" because of the increase in numbers.
"Australia is open to the rest of the world, but we still have these checks and balances in place and this is a big change for a number of airlines who may not have flown to Australia for some time," Mr Goodwin said.
"With so many changes and with people who haven't flown for some time, or [airlines that] may not have processed international travellers for some time, there is going to be some confusion."
Stay across the most crucial developments related to the pandemic with the Coronavirus Update. Sign up to receive the weekly newsletter.