While the design it revealed was new, the money committed is a repeat of the $50 million the federal government promised towards the roundabout during its 2019 campaign.
First-time Labor candidate Sitou said the intersection at Australia Avenue, Homebush Bay Drive and Underwood Road was one of the worst in the country and this week's announcement was "just another empty promise".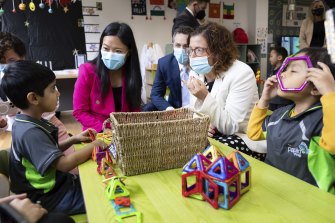 "After almost 10 years in office, all the Liberals have to offer is re-announcing funding from three years ago, with construction not due to start for another three years," she said.
"Local residents will see this so-called announcement for what it really is … Our community is sick of the Liberals' empty promises."
Martin said this week's announcement was not a funding promise but a release of designs for the project, which would now be open to community consultation. "I am asking for people to vote one for me and the Liberal government, so we can secure a strong economy and a stronger future," she said.
"This election is important for locals here in Reid because only with a strong economy can we continue to fix local traffic congestion, fund important health services like Headspace … and support local businesses to create even more jobs."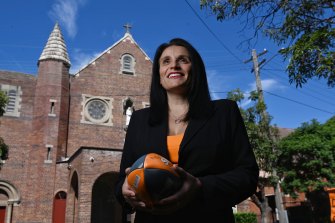 Both candidates are stepping up their presence in the diverse electorate. Sitou, who has been doorknocking for months, made appearances with Labor's campaign spokesman Jason Clare and early childhood education spokeswoman Amanda Rishworth this week, and campaigned alongside energy spokesman Chris Bowen.
Martin has been on the ground with Communications and Urban Infrastructure Minister Paul Fletcher and Finance Minister Simon Birmingham.
Some Liberal Party branch members in Reid have downed tools out of allegiance to Baini, who quit the party to stand as an independent last year in protest at how it handled her internal complaint.
Loading
Baini has alleged in a written statement to the Fair Work Commission that she had a relationship with former Reid MP Craig Laundy while he was married, that Laundy had taken steps to block her from running for preselection in Reid in 2019, and that he and members of his family had made threats about her. The commission has reserved its decision.
On how-to-vote cards printed this week, Baini said her preferences had been "based on feedback from discussions with people in the community. The Liberals did not request a discussion on preferences."
Bonham said the lack of reliable seat-specific polling made it difficult to determine who was ahead in Reid or how effective Baini's campaign had been in disrupting the two-party vote.
But he said Reid would not be an easy seat for an independent to win.
Loading
"For an independent to get into the top two, they've got to take a huge amount of votes off one of the major parties. Reid is a hard one, they don't have a lot of minor votes they can take and use as preferences to climb up."
He said the greatest impact of Baini's campaign would likely be the damage she inflicts on her former party, by highlighting issues damaging to the Coalition on the campaign trail, as well as directing preferences to Labor.
"Not very many voters will follow that recommendation just because it's on a card, but it's somewhat unhelpful for an incumbent," Bonham said.
The Australian Christian Lobby has also campaigned against Martin in Reid, issuing leaflets criticising her decision to cross the floor over an amendment to the Sex Discrimination Act.
Cut through the noise of the federal election campaign with news, views and expert analysis from Jacqueline Maley. Sign up to our Australia Votes 2022 newsletter here.