After graduating from the University of Wollongong five years ago, graduate Lachlan Maloney, 27, has built a start-up, created software that teaches people how to play guitar and landed a prestigious job as a marine engineer at the Department of Defence in Canberra.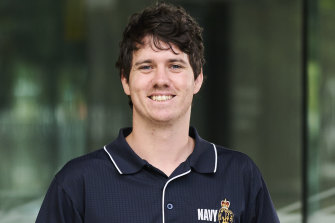 His university journey started early when he was still in high school in Tamworth, about three hours northwest of Newcastle. He learned about UOW during a school presentation and decided to take a road trip to the South Coast to learn more about the university.
"Right away, I fell in love with the campus and its liveliness, and the proximity to the ocean was appealing too. So I applied while still completing my HSC and got in on early entry, starting with a mechanical engineering degree," Maloney said.
As a child, Maloney had dreamt of becoming an archaeologist, fantasising about discovering dinosaur bones, digging them out and putting them into museums.
"I've always been very much into Lego. I loved building sets with my grandfather, a skilled Lego builder, and later, I became a fan of Lego Mechatronics. Then, high school was a busy time, full of local science competitions, so studying engineering was such a natural, aligned choice for me," he said.
Building on his Lego passion, Maloney's interest in engineering quickly evolved into mechatronics before he switched degrees to study Mechatronics, Robotics and Automation. He also enrolled in the iAccelerate program, a business accelerator and incubator program run by the University of Wollongong for local start-ups and entrepreneurs.
He drew on his passion for mechatronics and music to co-found InstaShred – a start-up that develops cool software for budding musicians. Built as an interactive LED guitar that pairs with a smartphone, the program shows aspiring guitarists where to place their fingers.
"Playing the guitar has always been my passion, but so is software-building. So I teamed up with a group of UOW student engineers to create something that could help motivate people to pick up a guitar and start learning," Lachlan says.